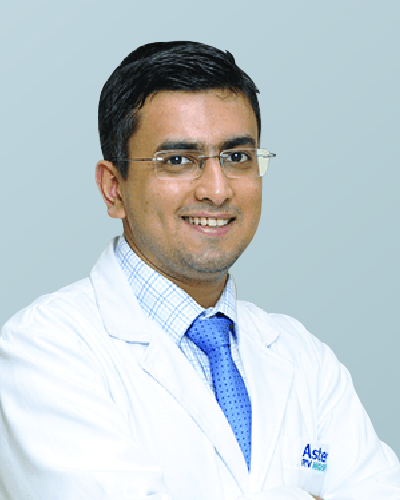 Dr. Rohit Udaya Prasad
Lead Consultant - ENT & Cochlear Implant Surgery
Overview
Dr. Rohit Udaya Prasad is a qualified Consultant-ENT & Cochlear implant surgeon registered under Karnataka Medical Council, India. Presently, he is working as an ENT & Cochlear implant Surgeon at Aster RV, Bengaluru.
Dr. Rohit Udaya Prasad is the youngest Cochlear Implant surgeon to perform independent Cochlear implant surgery by VERIA technique at the age of 29.
Dr. Rohit Udaya Prasad has completed two years of advanced training in Cochlear implant surgery under the mentorship of Padmashri Prof. Dr. J.M.Hans at Dr. Hans Centre for ENT hearing Care and Vertigo, New Delhi in 2016.
Dr. Rohit Udaya Prasad completed his MBBS from M S Ramaiah Medical College, Bangalore in 2010. Later, in 2014, he obtained MS in ENT from Pt. Jawahar Lal Memorial Medical College, Raipur, Chhattisgarh, AYUSH Health Science University, Raipur (CG)
Area of expertise
Cochlear Implant Surgery

Micro-Ear Surgery

Skull base Surgery (Anterior)

Rhinology / Otology

Microlaryngeal Surgery

Head & Neck Surgery

Pediatric ENT Surgery


 
Work experience
Dr. Rohit brings 9 years of expertise in ENT and cochlear implant surgery. He joined Aster RV Hospital, Bangalore as a Consultant – ENT and Cochlear Implant surgeon in April 2019. Prior to joining Aster family, he has worked with Dr Hans Center for ENT hearing Care & Vertigo, Madhukar Rainbow & Children's Hospital, SCI International Hospital and Fortis Hospital New Delhi.
 
Papers Published
Alveolar rhabdomyosarcoma of lateral pharyngeal wall. AjitDaharwal, S.Yogesh, Rohit Prasad, Surjeet Singh- Raipur (Chhattisgarh), Gujarat Journal of Otorhinolaryngology and Head & Neck Surgery, Vol. 9 No. 2, August 2012

Synchronous squamous cell carcinoma larynx and non hodgkins lymphoma neck. AjitDaharwal ,S.Yogesh , Rohit Prasad , Surjeet Singh ,S.K.Tiwari -Raipur (Chhatisgarh), National Journal of Otorhinolaryngology and Head & Neck Surgery, Vol. 1(10) No. 1, April 2013

Videostroboscopy study of larynx in primary school teachers. S.Yogesh , AjitDaharwal , Rohit Prasad , Surjeet Singh , Vidhya Shankari -Raipur ( Chhatisgarh), National Journal of Otorhinolaryngology and Head & Neck Surgery, Vol. 2(11) No. 1, April 2014

Successful pregnancy and delivery in a rare case of pentalogy of fallot, Indian journal of clinical practice 2009,20(4),334-6, Ashwini Nayak, Rohit Prasad, Sundari

Collagen Dressing in Canal wall Down Mastoidectomy- A Comparative study  Sunil Ramnani1, Rohit Udaya Prasad2, Hansa Banjara3, AjitVikram Daharwal4, Yogesh S5

Cochlear Implant Surgery by the Veria Technique: How and Why? Experience from 1400 Cases.

 

Hans JM1, Prasad R2


 
Workshops
MED-EL - Cochlear Implant Surgeon Workshop (Innsbruck, Austria) - April 2018

ADVANCED BIONICS - Temporal Bone workshop on Cochlear Implant Surgery (Jakarta, Indonesia) - March 2018

Cochlear Clinical Skills Institute, Macquarie University - Cochlear Implant Surgeons Workshop (Sydney, Australia) - September 2016

SAIMS Hospital - Skull Base and Rhinoplasty Workshop (Indore, India) - 2012

Jawaharlal Nehru Hospital Research Center - Temporal Bone workshop - (Bhilai, India) - 2012


 
Conferences
The Association of Otolaryngologists of India Annual conference(AOICON) 2012(Allahabad), 2013(Pune), 2014(Mysore)

Cochlear Implant group of India annual conference (CIGICON)- 2014(AIIMS, New Delhi),2015(Jaipur), 2016 (Kochi)

Presented poster on CSF Gushers-  CIGICON 2015, Jaipur

Presented Oral paper on Understanding temporal bone aqueducts in Cochlear Implant Surgery – CIGICON 2016, Kochi

Cochlear Implant Surgeon in Surgical team for cochlear Implant Surgery by VERIA technique at Cochlear Cruise 2017 Bikaner

Surgical team for Cochlear Implant Surgery at 1st Robotic conference and advances in ENT, PGIMER, Chandigarh

Attended and participated in Debate on surgical technique in Cochlear Implants At Cochlear Implant Surgery by VERIA technique, Indore.

Cochlear Implant Surgeon in Surgical team at Live surgical demonstration, 14th Asia Oceania ORLHNS Congress & 71st AOICON, Hyderabad.

Asia Pacific Symposium on Cochlear Implants, Tokyo, Japan 2019

European Symposium on Pediatric Cochlear Implant, Budapest (Virtual), 2021


 
Achievements
Gold Medalist

–Physiology, MBBS, MS Ramaiah Medical college Bangalore, India

Rani Kanaka Memorial Award

– Physiology, MBBS

Youngest Cochlear Implant Surgeon

(Age 29) to successfully perform independent Cochlear Implant Surgery by VERIA Technique, India


 
Clinical Programs
Cochlear Implant Program ( Bal Shravan Yojna, Chhattisgarh, India): Cochlear Implant Surgery by VERIA Technique (2011- 2014) at Pt. Jawaharlal Nehru Memorial Medical College, Raipur (C.G)


 
Community Service
Cochlear Implant Surgery under Bal Shrvan Yojna – Govt. of Chhattisgarh sponsored program.  Free Cochlear Implant Surgery to children below poverty line. 2011-2014

Free Cochlear implant surgery for children under ADIP scheme, a Govt. of India initiative.  2016-2017

Cochlear Implant Surgery for children, Prime Minister's National Relief Fund. 2014-2019
Other Similar Doctors