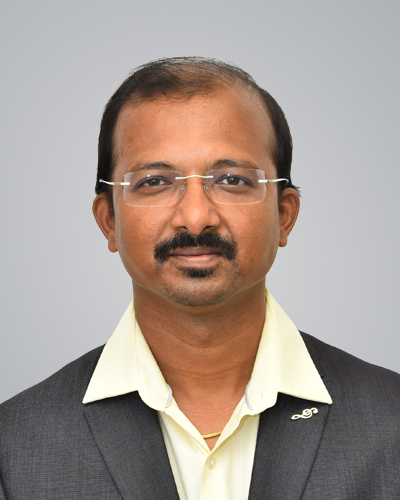 Balaji B S
Consultant - Neurology & Epileptology
MBBS, MD (General Medicine), DM (Neurology), Post Doctoral Fellow in Epilepsy (SCTIMST)
Overview
Dr Balaji B S is a Consultant in Neurology & and Epileptology with 7 years of experience in the field of Neurology and 16 years in the field of Medicine.
He completed his basic graduation in 2007, from the prestigious Mahadevappa Rampure Medical College, Gulbarga. Following this, he pursued post postgraduate medical degree (MD) in General Medicine from Darbhanga Medical College, Bihar in 2012. He worked as a Senior Resident in JIPMER Puducherry, ICU in St Johns Medical College & Hospital, Bengaluru, and Neurology ICU at Yashoda Hospital, Secunderabad.
He then pursued his career in Neurology and obtained a Doctorate (DM) degree from the prestigious Madras Medical College, Chennai in 2019. Subsequently, he underwent one-year Epilepsy fellowship from the reputed R. Madhavan Nair Centre for Comprehensive Epilepsy Care (RMNCCEC) in Sree Chitra Tirunal Institute for Medical Sciences and Technology (SCTIMST) Trivandrum in 2020. He worked as a consultant Neurologist & Epileptologist at Sakra World Hospital, Bengaluru from 2021 – October 2023.
He is an expert in the management of refractory epilepsy, pediatric epilepsy, and epilepsy in pregnancy. He is a professional who values ethics and practices evidence-based medicine and follows international and national protocols in patient management. His asset is the care and compassion with which he treats the patient.
Area of expertise
Epilepsy – Management of adult and childhood epileptic disorders with special interest in Women with epilepsy (WWE)
Stroke – Expert in acute stroke management with IV Thrombolysis and rehabilitation
Headache- Migraine and other types of headaches
Neuromuscular disorders- peripheral neuropathy, radiculopathy, myopathies, myasthenia gravis
Movement disorders- Parkinson's disease, Tremors, Dystonia, Tics
Memory disorders - Alzheimer's disease, Frontotemporal dementia, Vascular dementia
Acute neurological care
Awards and recognitions
Awarded Asian & Oceanian Epilepsy Congress (AOEC) Research Presentation certificate for topic on Women with epilepsy
Research experience in Kerala Registry of Epilepsy and pregnancy (KREP), one of the few epilepsy & pregnancy registries in the World
Contributed chapters on Epilepsy and Vertigo in national and international textbooks
Publications in International Journals on topics such as epilepsy in pregnancy, posterior circulation stroke
Top ranker in DM Entrance examination
Membership
Indian Academy of Neurology
American Academic of Neurology
Indian Epilepsy Society
Papers & Publications
Seshachala BB, Jose M, Lathikakumari AM, Murali S, Kumar AS, Thomas SV. Valproate usage in pregnancy: An audit from the Kerala Registry of Epilepsy and Pregnancy. Epilepsia. 2021; 00:1–7. https://doi.org/10.1111/epi.16882
Presented an Oral Paper in Epilepsy Conference (ECON) in 2022 on Perampanel as rescue in Status Epilepticus
Seshachala BB, Prof Lakshminarasimhan R, Epilepsy, Anti-epileptic drugs & Suicidality. Poster at The World Congress for Neurorehabilitation (WCNR) 2018
Seshachala BB, Prof Chandramouleeswaran V, Topographical Correlation of Wallenberg's Syndrome with Blink Reflex Response. Platform at TANCON 2018
Presented papers and posters in various National Neurology conferences
Contributed chapters on Epilepsy and Vertigo in national and international textbooks