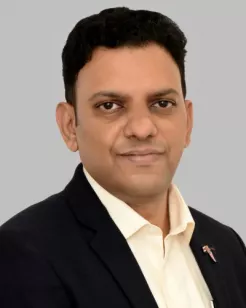 Dr. Abhijit B R
Consultant - Medical Gastroenterology
MD, DM (Medical Gastroenterology), Fellowship in Endoscopic Ultrasound.
Overview
Dr. Abhijith is a Consultant- Medical Gastroenterology at Aster Whitefield Hospital. He is a dedicated medical professional committed to improving the digestive health of his patients. With an amalgamation of advanced expertise, profound experience, and a patient-centric approach, Dr. Abhijith offers comprehensive, individualized treatments, harnessing the power of modern procedures and a compassionate touch.
Dr. Abhijith's pursuit of medical excellence began at the esteemed Karnataka Institute of Medical Sciences, Hubli. This was followed by his MD in General Medicine from Rabindranath Tagore Medical College, Udaipur. His passion for gastroenterology led him to acquire a DM in the same from the renowned Kasturba Medical College, Manipal. With a dedication to continuous learning, Dr. Abhijith keeps himself abreast of the latest advancements in gastroenterology. He furthered his skills in the field by undergoing specialized training in diagnostic and therapeutic Endoscopic ultrasound at IDL Care School of EUS, Mumbai.
Committed to bringing the latest research and innovative techniques to his patients, Dr. Abhijith integrates modern diagnostic tools and state-of-the-art therapeutic procedures into his practice. He regularly engages in professional development opportunities to ensure his practice remains aligned with the rapidly evolving field of gastroenterology.
In Dr. Abhijith's practice, patients are the nucleus of all endeavors. He places paramount importance on building trusting relationships, taking the time to attentively listen to patients' concerns, answer their questions, and provide comprehensive explanations about diagnoses and treatment options. This patient-centric approach empowers patients to participate actively in their care, allowing them to make well-informed decisions about their health.
With Dr. Abhijith by your side, you are not merely a patient, but a partner in the journey towards improved digestive health. From initial diagnosis to comprehensive treatment and beyond, he will be your trusted guide, ensuring that your journey is as smooth and comfortable as possible.
Area of expertise
Gastroesophageal Reflux Disease (GERD)
Gastric Ulcers
Inflammatory Bowel Disease, including Crohn's Disease and Ulcerative Colitis
Irritable Bowel Syndrome (IBS)
Liver Diseases, encompassing Hepatitis and Cirrhosis
Pancreatic Disorders
Gastrointestinal Cancers
Gastrointestinal Bleeding
Functional Bowel Disorders
Membership:
Indian Society of Gastroenterology
American college of Gastroenterology
Papers published:
Rai P, Udawat P, Chowdhary SD, Gunjan D, Samanta J, Bhatia V, et al. Society of gastrointestinal endoscopy of India consensus guidelines on endoscopic ultrasound-guided biliary drainage: Part I (indications, outcomes, comparative evaluations, training). Journal of Digestive Endoscopy. 2023;14(01):030–40. doi:10.1055/s-0043-1761591
Samanta J, Udawat P, Chowdhary SD, Gunjan D, Rai P, Bhatia V, et al. Society of gastrointestinal endoscopy of India consensus guidelines on endoscopic ultrasound-guided biliary drainage: Part II (technical aspects). Journal of Digestive Endoscopy. 2023; doi:10.1055/s-0043-1768043
Ali, I.H. Bale A, Jalihal U, et al. (2022) "Prevalence, clinical characteristics, and treatment response in patients with post cricoid inlet patch—a descriptive retrospective study," Journal of Digestive Endoscopy, 13(04), pp. 235–239. Available at: https://doi.org/10.1055/s-0042- 1758534.
Bale, A., Ali, I. H., Bale, A., Ramappa, V., & Jalihal, U. (2022). Innovative Upper Gastrointestinal Stenting: Reboring the Blocked Path. Gastroenterology.
Dhir, V., & Bale, A. (2022). EUS-guided Hepatico-gastrostomy: To dilate or not to dilate? Digestive Diseases and Sciences. https://doi.org/10.1007/s10620-022-07560-2
Management of Acute Variceal Bleed by Esophageal Variceal Ligation in an Unconventional Position—An Urban-Center Insight. Journal of Digestive Endoscopy, 10(04), 213-218. doi:10.1055/s-0040-1709085
Prevalence of and Factors Associated With Minimal Hepatic Encephalopathy in Patients With Cirrhosis of Liver Bale, Abhijith et al. Journal of Clinical and Experimental Hepatology, https://doi.org/10.1016/j.jceh.2017.06.005
Upper Gastrointestinal Bleed Due to Invasive Hepatocellular Carcinoma and Hepato- Gastric Fistula Bale, Abhijith et al. Journal of Clinical and Experimental Hepatology, https://doi.org/10.1016/j.jceh.2017.09.006
Other Similar Doctors