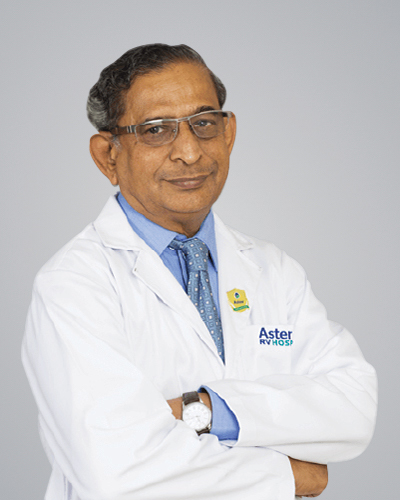 Dr. B A Chandramouli
Lead Consultant - Neurosurgery
Overview
Dr. B A Chandramouli is a Consultant Neurosurgeon at Aster RV JP Nagar, Bengaluru. He completed his MBBS in 1976 and M.Ch (Neurosurgery) from Bangalore University in 1983. Dr. B A Chandramouli was also appointed as an Examiner for M.Ch (Neurosurgery) at AIIMS, Sanjay Gandhi Institute of Medical Sciences and Research, Nizam's Institute of Medical Sciences, NTR Medical University, Sri Venkateswara Institute of medical sciences, and Sri Chitra Tirunal Institute of Medical Sciences and Technology. He holds membership of Neurological Society of India and Bangalore Neurological Society.
Dr. B A Chandramouli has teaching experience for Post Graduates students in M.Ch (Neurosurgery), MS (General Surgery), Orthopaedics, and ENT. He was invited for more than 20 lectures and guided more than 36 theses for M.Ch, PhD, and MPhil.
He has published around 115 publications in national and international journals.
Dr. B A Chandramouli has completed training in various Specialities:
Microneurosurgery under Prof. M. Gazi Yasargil, University Hospital, Zurich, Switzerland.
Sugita Scholar under Prof. Kenchiro Sugita, Nagoya University School of Medicine, Nagoya, Japan.
Skull base surgery Fellowship under Prof. Laligam N.  Sekhar University Hospital, George Washington University, Washington DC.
Research Projects:
Lactic Dehydrogenase and its Isoenzymes in Brain tumour and C.S.F.
Research projects Co-investigator:
Evaluation and analysis of immune Architecture of CNS Tuberculomas.
Improving cancer Radiotherapy with 2- Deoxy- D- Glucose. Phase – II clinical trials on human cerebral gliomas.
Clinicopathological correlation of Biological behavior of recurrent Neuroepithelial Tumours.
Generativity in cognitive networks - Cognitive Science Research Initiative (CSI) under the Department of Science and technology
Glioma trial - "Protocol No. AP 12009-G004: A multinational, multi-center, open-label, active-controlled, randomized parallel-group dose-finding study to evaluate the efficiency and safety of two doses of Ap12009 in adult patients with recurrent high-grade glioma, administered intratumorally as continuous high-flow micro-perfusion over a 7-day period every other week".
A prospective study to correlate gene signatures with clinical outcome of astrocytomas and identification of potential therapeutic target(s) - NMITLI project
Multi-Institutional Network project on Molecular Neuro-oncology DBT COE Project
ORATION:
Muralidhar Oration: Anterior Communicating Artery Aneurysm in XII Andhra  Pradesh Neuroscientists Conference- 2005 9-10 July. 2005. Vijayawada.