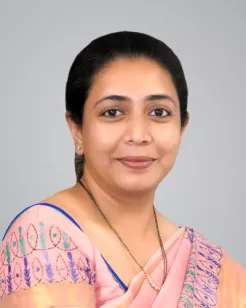 Dr. Renita Marina Pinto
Consultant - Anaesthesia & Critical Care
MBBS, MD(Anaesthesia), Fellowship in cardiothoracic anaesthesia
Overview
Dr. Renita Marina Pinto is a consultant in anaesthesia & critical care at Aster CMI hospital, Bengaluru, with more than 10 years of experience. Prior to Aster, she was working as a consultant Anaesthetist at Columbia Asia Referral Hospital, Bengaluru.
She has a vast experience in all specialities of anaesthesia, managing high risk and critical surgeries with favourable outcome. Dr. Renita has a special interest in cardiac anaesthesia, ultrasound guided regional anaesthesia and POCUS. She has participated in numerous ultrasound guided regional anaesthesia CME's and Workshops as a resource person. Dr. Renita's other areas of interest include obstetric anaesthesia for high risk pregnancy and ECMO.
Dr. Renita Marina Pinto has passed her MBBS from Father Muller's Medical college, Mangalore in 2007. She has completed her M.D from Father Muller's Medical college , Mangalore in 2010. She has obtained post doctorate fellowship in cardiothoracic anaesthesia in 2011 from Manipal university.
Area of expertise
Cardiac anaesthesia
Ultrasound guided regional anaesthesia.
Obstetric anaesthesia.
Difficult airway management.
Transthoracic and transesophageal echocardiography.
POCUS
 
Publications:
Spontaneous pneumothorax in pregnancy: A challenge for anaesthesiologist. Journal of obstetric anaesthesia and critical care 2017,7:106-8. \
Perioperative anaesthetic management of placenta percreta: A Rare case. Karnataka anaesthesia journal 2020, vol 18 (1-2): 45-46.
Co-authored a chapter : Anaesthesia for maxillofacial surgery. In Oral and maxillofacial surgery for the clinicians 2021 eds 1. springer singapore.