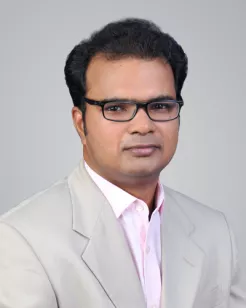 Dr. Devaraj T V
MBBS, MS, DNB (Gen Surg) FMAS
Overview
Dr. Devaraj, working as a Specialist in General and Laparoscopic surgery at Aster MIMS, Kannur has a tremendous track record that sets him apart other doctors in his league.
He works with high-risk patients and patients looking at post-surgical complications. An epitome of compassion and care, Dr Devaraj previously served as a consultant in general and laparoscopic surgery at the Josegiri hospital, Thalassery. Prior to that, he was a junior consultant in general surgery at the Government General Hospital, Directorate of Health Services, Thalassery.
Dr Devaraj is an MS in General Surgery from Kerala University of Health Sciences (Trivandrum Medical College). He has a fellowship in minimal access surgery and a DNB in General Surgery from the National Board of Examinations.
Dr Devaraj completed his MBBS from the Kozhikode Medical College in 2008.
His expertise includes minimally invasive procedures for haemorrhoids, fistula, fissure, and varicose vein.
He has extensive experience in laser surgery for haemorrhoid and varicose vein, bariatric and other laparoscopic surgeries, and thyroid and salivary gland tumour surgeries. A native of Kannur, Dr Devaraj lives in Thalassery with his wife and their son.
Area of expertise
Haemorrhoids
Fistula
Fissure
Varicose vein