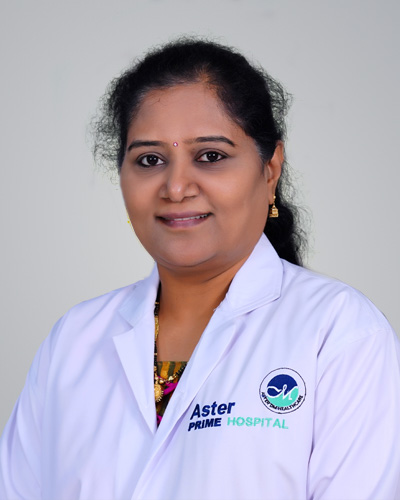 Dr. C Uma Sreedevi
Chief of Medical Services & HOD - Anesthesiology
MBBS, MD, MHA, FIPP (USA)
Overview
Dr. C.Uma Sreedevi associated with Aster Prime Hospital as an interventional pain physician. She completed her MBBS from Kurnool Medical College in the year 1996. She did MD in Anesthesiology from Osmania Medical University. She is the first Pain Physician in Telangana and Andhra Pradesh who did a Fellowship in Interventional Pain Practice (FIPP) from World Institute of Pain, New York, which is the pioneer centre for pain management. She also did a diploma in Regional anaesthesia and pain management (IDRA)from Delhi.
Dr. Uma Sreedevi is associated with World Institute Pain (FIPP), ISSP (Indian Society for the Study of Pain) and Indian Society of Anaesthesiologists (ISA).
Work Experience
Dr. Uma started her career in the year 2008 as a Consultant Anaesthesiologist at Prime Hospital. Between 2013-2016 Dr. Uma Sreedevi pursued her fellowship in Interventional Pain Management and received her fellowship in the year 2016.
In the year 2016-2018, she worked as a consultant anesthesiologist in Kamineni Hospitals.
Area of expertise
Her area of expertise and interest include diagnostic and therapeutic pain management interventions like Radiofrequency ablation, PRP therapy. Radiofrequency ablation is a boon interventional therapy for those patients who are suffering from Chronic intractable pain conditions like Trigeminal neuralgia, Cancer pain, Facet joint arthropathy, Peripheral Vascular Disease, Chronic Pancreatitis etc. Dr.Uma Sreedevi also did a fellowship in Endoscopic Spine Surgery from Dr.Satish Chandra Gore, Pioneer endoscopic spine surgeon from Pune. Endoscopic Spine Surgery is a stitchless Spine Surgery can be done as a daycare procedure for patients with Lumbar disc prolapse.
Dr. Uma Sreedevi during her pain management training did a fellowship in Palliative care from MNG Institute of Oncology, Hyderabad in collaboration with AIIMS, Delhi. Palliative care focuses on terminally ill patients to have them a pain-free and thereby improved quality of life.
Awards and recognitions
Dr. Uma won first prize in PG Quiz(Anaesthesiology) in the year 1999.