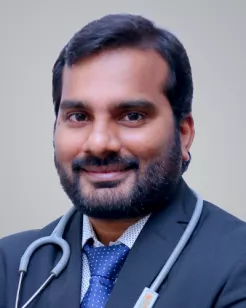 Dr. N Raja Ramesh
Consultant
Overview
Dr. N Raja Ramesh is an accomplished Interventional Cardiologist with an impressive medical journey. He completed his residency in Internal Medicine at the esteemed Manipal University, followed by a super specialization D.M. in Interventional Cardiology at the prestigious JIPMER institute. His academic foundation includes an MBBS from Rangaraya Medical College and an MD from Kasturba Medical College.
His areas of expertise encompass an array of intricate procedures. He is adept at Structural heart interventions like TAVI, TMVR, and MITRA CLIP, along with complex coronary artery interventions via radial or femoral routes. His proficiency extends to Permanent pacemaker implantations, ICD, and CRT implantations. With specialized training, he is a skilled interventionist, particularly excelling in Coronary Angiogram and Stent placement.
Dr. Ramesh's remarkable achievements further reflect his dedication. He has performed over 10,000 diagnostic coronary angiograms and undertaken more than 4,000 angioplasties of varying lesion complexities. His commitment to precision and excellence in interventional cardiology highlights his significant contributions to patient care and cardiovascular advancements.
Area of expertise
Interventional Cardiology
Structural heart interventions like TAVI, TMVR, and MITRA CLIP
Permanent pacemaker implantations like ICD and CRT