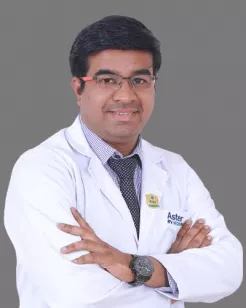 Dr. Rajendra Kumar K P
Consultant- Critical Care Unit
MBBS, MD (Anaesthesiology), Fellowship in Critical Care
Overview
Dr. Rajendra is a consultant at Critical Care unit at Aster RV JP Nagar. Prior to Aster, he was working as a consultant in Critical care medicine department at SSNMC, Bangalore till 2017. His area of interest is Comprehensive training in Intensive Care Management in Medical, Neurosurgical, Trauma, Cardiology, and Post Cardiac Surgery. He has also completed training in Basic Life Support (BLS) and Advanced cardiac life support (ACLS).
 
Education
Dr. Rajendra completed his MBBS from Karnataka Institute of Medical Sciences, Hubli in 2007. He gained his MD in Anaesthesiology from K S Hegde Medical College, Mangalore in 2011. Later, in 2014, he completed his Fellowship in National Board (FNB) in Critical Care from Bombay Hospital. In 2015, he earned European Diploma in Intensive Care (EDIC) from Zurich.
 
Work experience
Dr. Rajendra started working as an Intern after completing his MBBS for a year between 2006-2007. After completion of MD, he was appointed as a senior resident and assistant professor in Anaesthesiology department at K S Hegde Medical Academy between 2011-2012. Later, accomplishing his FNB, he served as a Junior Intensivist at Bombay Hospital between 2012-2014.
In 2015, he was appointed as a specialist at the Critical Care medicine department at Manipal Hospital. His special interest in critical care gained him Associate Consultant at Sparsh Super Specialty Hospital, Bangalore between 2015-2017. He has also served as Specialist at King Hamad Hospital, Bahrain in 2017.
 
Research experience
He has been involved in research projects during fellowship training
Intensive care over nations (ICON) trial, July 2012
A rationale for fluid therapy in Asia  (RAFTA) trial, August 2012
Multicentre observational study to evaluate epidemiology and resistance patterns of common ICU infections (MOSER )Study, October 2012
IMPRESS: International Multicentre Prevalence study on Sepsis, November 2013
The Intensive Care GLObal Study on Severe Acute Respiratory Infection (IC- GLOSSARI), January 2014
Lung Safe: Large observational study to understand the Global impact of Severe Acute Respiratory Failure, March 2014
Area of expertise
Hemodynamic stability in fluids, use of flow-tek, PiCCO, and management of sepsis.
Ultrasound for central line insertion, lung ultrasonography, assessment of fluid status
Mechanical ventilation & percutaneous tracheostomy.
Antibiotic stewardship
Management of patients with traumatic brain injury, acute infarct and intracranial bleed
 
Memberships
Karnataka Medical Council (KMC). Registration number – KMC 77808
Indian society of critical care medicine- 17/K-877
Indian society of anaesthesiologists- R1862
All India difficult airway association - 11/K – 11
Indian medical association life membership number- KAR/14256/5/3090/204066/2015-16/L
Other Similar Doctors