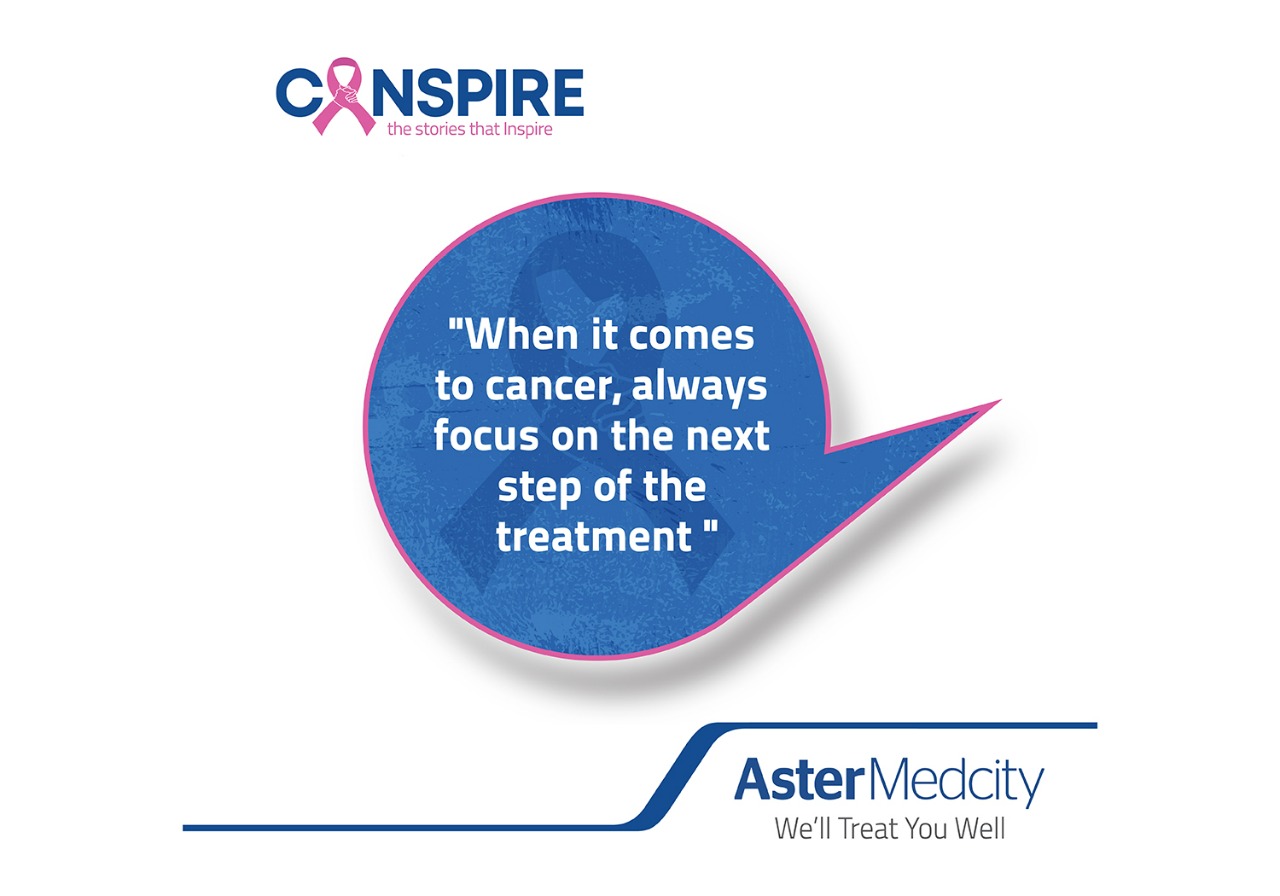 When it comes to cancer, we must not lose focus
Prakashan, aged 68, is an expatriate. In 2021, he noticed a slight change in his voice. He and his wife knew, from that point itself, that it was a potential symptom of cancer. So they decided to spare the local clinic visits and went on to see a specialist at Aster Medcity.
When the doctor conducted a laryngoscopy, he found a lump down there. The doctor told them to make a few lifestyle changes and see if that lump persists or retreats. The suggested lifestyle changes included voice therapy, individualized diet and exercise. For a month, Prakashan avidly followed the new routine. He was relieved that the new endoscopy could not find any signs of the lump. However, he continued with the follow-up check-ups.
After a few months, the scan results again indicated something unusual. Worried, the doctor urged him to take a biopsy as soon as possible. Unfortunately, the biopsy results confirmed first-stage larynx cancer. Following the diagnosis, Prakashan went through 29 sessions of radiation. The first ten days went without any problem. Later on, he was given pain medicines. Although radiation therapy had its discomforts, he and his wife were prepared to face the difficulties. They opted for a healthy fluid diet to avoid further problems.
Their diet preparation was handy for this treatment, and Prakashan could avoid getting intubation for nutritional needs. Thanks to the homemade diet, he did not suffer from any weight loss as well. After radiation sessions, he was back to life with absolutely no problems with eating or talking, and his voice came back as natural as it was. Nevertheless, Prakashan was left with a burned scar on his throat due to radiation which quickly healed weeks after the treatment.
Prakashan is so grateful that everything turned out so well. Willingness to meet the consequences and never giving up helped Prakashan handle the challenging situations very well. Doctors informed him of the side effects and difficulties that could follow each stage of the treatment, and he was ready to face them beforehand. Even when they had two adult children, he never had to seek their help. "We knew early diagnosis and treatment can make a huge difference. Since the cancer was in the first stage, we were very optimistic", says Bini, his wife.
This tough couple highlights the significance of being cancer-aware and treatment-focused. "You should not waste time trying your chance with many types of treatments and remedies. When it comes to cancer, we must always focus on what can be done cure the disease", Prakashan reminiscents. Cancer did not change Prakashan's life very much; he is still not afraid of cancer.