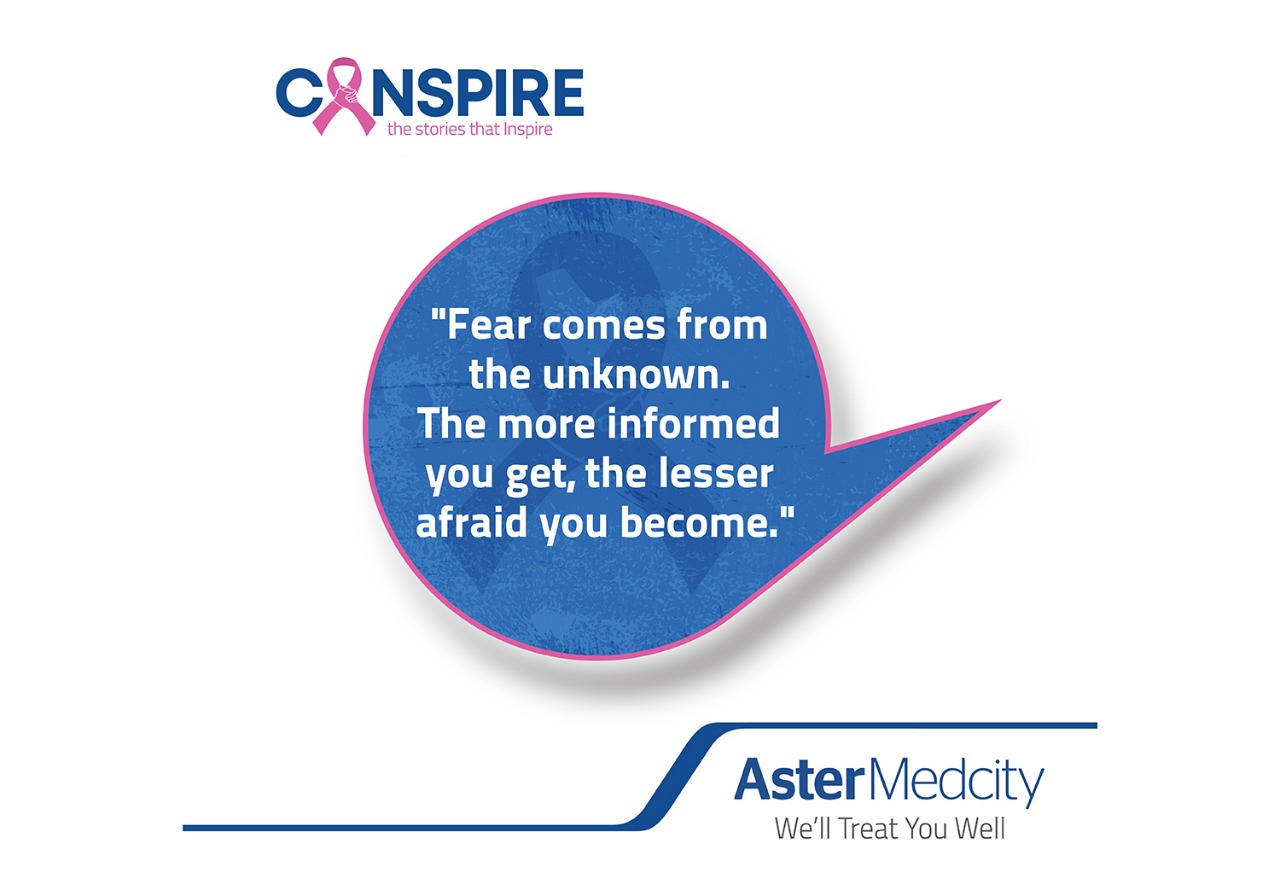 "If I can, all of us can", Renjini's life is a powerful example of cancer survival
Renjini is a strong-willed woman, but if it wasn't for cancer, she would not have discovered how strong she is. In 2019, she noticed a lump in her breast. When she was told that she had cancer, she was terrified like any other person would have. 
She had her breast lump removed soon after it. Then she went through four sessions of chemotherapy and 20 sessions of radiation. Fortunately for Renjini, she did not experience many discomforts that come with chemotherapy, even though it got tough one after one. It was indeed a difficult time, but looking back on the treatment after all these years, she feels like cancer is just another disease that demands two years of treatment. 
Renjini stresses the importance of having a solid support system. People around you can make a big difference throughout the journey. Besides the apparent fright, people often regard cancer care as expensive. Even though cancer care is made affordable, this misconception prevails. Hence, they are reluctant to opt for treatment and ask more questions. 
According to Renjini, "Fear comes from the unknown. The more informed you get, the lesser afraid you become. So, raise your questions to the doctor, not Google. Communicate with people and feel the simplest pleasures of life. With a solid support system, it only takes two years to fight off cancer and bring everything back the way before."
For her, it is vital to have conversations about cancer. Not many know there are many stages of cancer, and each comes with different survival rates. Many cancers are perfectly curable and come with a significantly high survival rate. To beat cancer, one needs courage and support as well as information that is accurate and helpful.
Cancer is not new for Renjini, she has witnessed her friend battling cancer, and that is from where she got the inspiration to face it anyway with everything she has got. Currently, she is committed to spreading that courage and awareness to others. By conquering cancer, she emerged as a cancer counsellor and ally to all cancer survivors, one who is there for other cancer patients to call on and count on. Cancer can happen to anyone, so; we must all be aware and empowered to fight it off, she adds.
Chemotherapy comes with many side effects like losing one's hair, but one day, your hair and skin pigmentation and everything will return to normal, and you will be cancer-free. The only thing patients need to focus on is present, how to endure the ordeals of the cancer treatment. Divert yourself, and make yourself busy with the things you like to do. It may feel challenging at first, but with the support from your family and friends, you will be finally on track.
Today, Renjini is using her experience with breast cancer to motivate others. She has many friends who call her often to share their experiences with her and find solace in her words. Renjini is a designer. Currently, she is supporting her sister in her business with back-end work.