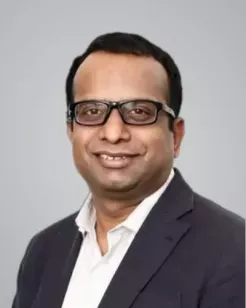 Dr. Ravi Kumar C P
Consultant - Paediatric Neurology
MRCPCH, CCT (Paediatrics)
Overview
Dr. C. P. Ravi Kumar is a highly qualified specialist in the field of Paediatric (child) neurology, currently working as the Consultant Paediatric Neurologist at the best neurology hospital in Bangalore - Aster CMI Hospital in Hebbal, Bengaluru, India. Having a few years of experience in the field, Dr. C. P. Ravi Kumar is well-known as the Best Pediatric Neurologists in Bangalore, India for offering comprehensive care to patients.

He has worked for some of the good private hospitals and has gained expertise in paediatric neurology. He did MBBS from Bangalore University in India. Later he attended MRCPCH in RCPCH, the UK in 2009 and obtained CCT in Paediatrics in 2013.
Experience
Dr. C. P. Ravi Kumar obtained training in paediatric field as an SHO and Specialist Registrar in Southeast of England, working in Paediatrics and neonates. He was trained from London Deanery as Specialist in Paediatrics in hospitals in South Thames rotation, associated in general paediatrics and subspecialties.
In 2013, he was appointed as Consultant Paediatrician with interest in Epilepsy at Royal Alexandra Children's Hospital, Brighton. He was associated as a Post CCST fellow in Complex Paediatric epilepsy at Evelina London Children's Hospital in London. Later in 2015, he was associated as a Post CCST fellow in Paediatric Neurology at Evelina London Children's Hospital in London. During his career, he has gained deep knowledge and expertise in paediatric neurology, committed to offering compassionate care needed for paediatrics. He is regarded as the Best Child Neurologist in Bangalore for his vast experience in the field.
Dr. Ravi has 6 + years of professional experience in paediatric neurology in various roles, before joining Aster CMI he was a Specialist registrar at St George's Hospital in London, Specialist registrar National Centre for Young Epilepsy in U.K., Consultant paediatrician (Epilepsy/Neurology), Royal Alexandra Children's hospital, Post CCST fellow in Complex Paediatric epilepsy, Post CCST fellow in Paediatric Neurology, EEG training and EEG training in Cleveland. Dr Ravi was a co-investigator for the KiWE trial (Ketogenic Diet in Infants with Epilepsy) at Evelina London Children's Hospital.
Dr. Ravi is an instructor for Paediatric Epilepsy courses(PET) and Childhood Headache training course (CHaT) managed by the British Paediatric Neurology Association. These courses have been started in India. He is also a tutor on Advanced Paediatric Life Support. He did contribute to question writing for MRCPCH managed by RCPCH. Dr. Ravi was actively engaged in teaching undergraduates at Brighton & Sussex medical school and GKT School of Medical Education.
He has training in imparting simulation teaching and debriefing. He trains varied healthcare professionals in addressing technical and non – technical skills at the Simulation and Interactive Learning (SaIL) Centre at St Thomas' Hospital.
Dr. Ravi was a member of the Clinical standards group of RCPCH. He has been reviewing draft guidelines as a member of Clinical standards group of RCPCH, updated medicine information leaflet for medicines for children (RCPCH). In 2018, he founded Brainchild Trust to help children affected with neurological disorders and support their families. The purpose of the trust is to raise awareness and empower children and parents in the management of general health conditions. Educating the general public about current issues affecting their health and also on providing unbiased information in regional Indian languages is the main focus.
The Trust intends to contribute towards academic activities by organizing CME and workshops in varied medical and non-medical specialties towards educating parents and professionals alike.

Aster NeuKIDS
Dr. C. P. Ravi Kumar has Led and established Aster NeuKIDS Child Development Centre (CDC) at Aster CMI Hospital in association with SUKHUMVIT Trust. It has been known for offering the highest quality care in a child-friendly environment to promote special care for children to resume back to normal functional potential.
He leads a multidisciplinary team of dedicated experts who offer the children and families programs ranging from early foundation, early intervention for High-risk new-borns, Autism Intervention, Infant stimulation, sensory integration and complete range of screening and management of children with Attention deficit, Learning disability. The extended team of Geneticist and Metabolic medicine consultants offer a comprehensive range of care for children with neurological health problems.
New-born brain care
The strength of Dr. Ravi is to guide and assist neonatologists in providing neuroprotective care in the NICU setting. For different purposes, babies reach NICU, modern technology has given numerous resources which have improved the survival rate of these babies, but the NICU environment is far removed from the safe in utero environment.
Most babies are at risk of neurodevelopmental delay as they face multiple difficulties that require necessary treatment. At the same time measures to reduce or nullify any long-term effect. The effective intervention has a positive significant impact on the child neuro-development.
He is also a member of the New-born Brain Society, an international organization working with specialists in this area to improve neonatal brain care by strengthening clinical practice, collaboration in research and promoting neuroprotective care.
Ketogenic diet services for children with difficult epilepsy
Dr. Ravi was trained in ketogenic diet services at Evelina London Children's hospital. In 2018, he started ketogenic service in collaboration with the dietetics and Nutrition department of Aster CMI Hospital. It is one among the few centres in Bangalore providing therapeutic Ketogenic Diet services prescribed and monitored by Dieticians and Neurologists.
Paediatric Neurology Outreach Clinics: Dr. Ravi started peripheral clinics across multiple centres in Karnataka via Vijayapura (Bijapur), Raichur and Mysore. The focus was on Community Paediatric Neurodevelopment and Neurology services. The Aster NeuKIDS model was replicated in Raichur and Vijayapura.
Memberships
Indian Academy of Paediatrics; active member of the largest medical organization in India advocating for the care and well-being of children. He is also actively involved in the sub-chapter of IAP neurology and neurodevelopment chapter. He is also an Executive Member of the IAP neurology chapter of India.
Association of child neurologists of India is a network of professionals involved in the care of children with neurological ailments.
Indian Epilepsy Society and Association; former is a professional organization and the later, patient's association involved in engaging the public in raising awareness and access to professional help.
The International Child Neurology Association (ICNA) is a highly respected international group of child neurologists who aim to provide advanced treatment for children with neurological disorders worldwide.
National Neonatal Forum of India (NNF); a group of neonatologists involved in raising the standard of care to newborn babies.
Publications
Ketogenic Diet experience in children less than two years of age with refractory epilepsy, Poster at BPNA USE OF KETOGENIC DIET FOR EPILEPSY IN BATTEN DISEASE, Poster at ICNC 2016.
Naila Ismayilova, Martin Smith, Mary-Anne Leung, Ravi Kumar, Ruth E. Williams, Ketogenic diet therapy in infants less than two years of age for medically refractory epilepsy, Seizure, Volume 57, 2018, Pages 5-7, ISSN 1059-1311, https://doi.org/10.1016/j.seizure.2018.02.014
Seema Thakur*, Shubhnita Singh, Ketki Vinod Kudalkar, Arndt Rolfs, Elham Kashani, Christian Beetz, Manish Parakh, Ravikumar Sowmya, Chinthalapalli Prakash Ravi Kumar, Anil Bansidhar Jalan; Clinical and Biochemical Spectrum of Molybdenum Cofactor Deficiency Due To MOCS2 Mutations. Volume 20 Issue 4, Page 99 – 107.
Edwina Raj, C P Ravikumar, Kaiser Raja ,Chethan Gingeri; Nutrition Therapy and Challenges in the Treatment of Glycogen Storage Disease III. Poster at ISIEM conference, Pune, 19th – 20th June 2019.
1st Prize at IAPEN Clinical Nutrition Congress 2019. Edwina Raj, C P Ravikumar, Aruna Devi, Efficacy of Ketogenic diet in drug resistant epilepsy, Poster presentation at Indian Association for Parenteral and Enteral Nutrition, Mumbai 9th Feb 2019.
 
Area of expertise
Childhood Epilepsy
Developmental delay
New-born Neurological problems
Childhood Headache
Autism
ADHD
Epilepsy management including Ketogenic diet and Vagal nerve stimulation.