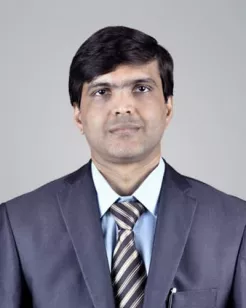 Dr. Raghavendra Kumar K
Consultant - Child & Adolescent Psychiatry
MBBS, DPM (Diploma in Psychiatry), MD, DM, PDF (Child & Adolescent Psychiatry), PGDCRL (Post Graduate Diploma in Child rights Law)
Overview
Dr. Raghavendra has a vast and multi-dimensional experience of more than 11 years in Psychiatry, all acquired at prestigious institutes in India.
He is one of the rare and fortunate few in our country, to have worked for 4 years as an SR, in Department of Child and Adolescent Psychiatry at NIMHANS.
He is one of the very few Child and Adolescent Psychiatrist in the nation, who is skilled in both pharmacological as well as psychological therapies. He is the only super-specialist (DM) Child and Adolescent Psychiatrist who is into full-time corporate practice in Karnataka.
Out of his own initiative, and as a persistent endeavour to add new dimensions to his knowledge base and to upgrade his skill-set, he has completed Post Graduate Diploma in Child Rights Law (PGDCRL) in 2020. This is a program run by the Centre for Child & Law, National Law school of India University (NLSIU), Bengaluru, India. This is one of the prestigious Law Schools in India.
Area of expertise
1. Diagnostic Evaluation:
Investigation, evaluation and diagnosis of children with Autism, ADHD, Developmental Delays, Learning Disorders and various other neurodevelopmental disorders.
Assessing children for emotional disorders (depression, anxiety, school-refusal, self-harm tendencies) and behavioural disorders (oppositionality, anger issues).
Assessing children for academic difficulties, intellectual disability.
Evaluating children & adolescents for technology/gaming/internet addiction.
Evaluating children & adolescents with neurological disorders for comorbid psychiatric illnesses.
Evaluating children & adolescents for psychiatric manifestations of various medical illnesses.
Assessing for psychiatric illness in children scheduled to undergo various major surgeries.
Diagnosing various associated psychiatric emergencies in children admitted to Intensive Care Unit.
Evaluating psychiatric emergencies (including suicidality) in children and adolescents.
Evaluating parents/family for issues related to parenting.
Evaluating parents for various psychiatric illnesses which can in turn affect children and adolescents.
 
2. Therapeutic Interventions:
Medication and psychotherapeutic management of all neurodevelopmental (Autism, ADHD etc), emotional & behavioural illnesses.
Therapeutic interventions for perinatal mental health disorders in expectant mothers.
Therapeutic interventions for mother-infant attachment/bonding disorders.
Early stimulation therapies for new-borns and infants.
Treating children with emotional disorders (depression, anxiety, self-harm tendencies) and behavioural disorders (oppositionality, anger issues).
Therapeutic management of various behavioural and internet/gaming addictions & gadget use.
Training related to academic difficulties and intellectual development disorders.
Training children to tap into their academic and extracurricular potential.
Life-skills and social-skills training for children and adolescents.
Remediation for academic/scholastic difficulties.
Family counselling and imparting parenting skills.
Individualised psychotherapy (counselling) for suicidality and various other psychiatric emergencies/crises.
 
EXPERIENCE
More than 11 years of experience in Psychiatry and nearly 5 years of experience in treating children and adolescents with psychiatric and neurodevelopmental conditions.
Awards and recognitions
Best Poster Award in "Mental Health Education Conference: 2018" for the poster "Psychoeducation in Attention Deficit Hyperactivity disorder- A Pictorial Model"
Has been the first rank holder in the national level entrance exams in NIMHANS for Child & Adolescent Psychiatry.
 
Memberships
Life Fellow of Indian Association for Child & Adolescent Mental Health - since 2020
Society for Research in Child Development - since 2018
Life Fellow of Indian Psychiatric Society - since 2018
Indian Medical Association - since 2016
 
Papers Published
International
Kumar KR, Rajendra KM, Seshadri SP, Girimaji SC, Srinath S, Sagar JV. Caretaker Perceptions About Self-cutting in Institutionalised Adolescents: A Comparison Between Cutters and Non-cutters. Institutionalised Children Explorations and Beyond. 2021 Mar;8(1):38-50.
Hiremath CS, Sagar KJ, Yamini BK, Girimaji AS, Kumar R, Sravanti SL, Padmanabha H, Raju KV, Kishore MT, Jacob P, Saini J. Emerging behavioral and neuroimaging biomarkers for early and accurate characterization of autism spectrum disorders: a systematic review. Translational Psychiatry. 2021 Jan 13;11(1):1-2.
Efficacy of ECT in bipolar and unipolar depression in a real-life hospital setting. Narayanaswamy J.C.,Vishwanath B., Reddy P.V., Kumar K.R., Thirthahalli J., Gangadhar B.N. Asian Journal of Psychiatry, 2014, 8(1), 43-46.
Low dose Clozapine induced Acute Akathisia. Preethi V Reddy, Sunil Patil, Raghavendra Kumar K, Lavanya A, G Gopalakrishnan. Indian Journal of Medical Case Reports, 2017 Vol. 6 (3) Jul-Sept, 20-22.
 
National
Reddy PV, Anuroop L, Shetageri V, Kumar RK, Gopalakrishnan G. A case of frontotemporal dementia presenting as nicotine dependence and carbohydrate craving. Indian Journal of Psychological Medicine. 2019 Jul;41(4):391-3.
Affective Psychosis: A Rare Presentation of Tubercular Meningitis in a Tertiary Care Hospital. Preethi V Reddy, Veda Shetageri, Raghavendra Kumar K, Lavanya Anuroop, Ganeshan Gopalakrisnan. Journal of Case Reports 2017;7(4):408-410.
 
Presentations
Physical & Mental Health Care of Children in Child care Institutions- Issues and Management During Covid-19 - National - 2021 
Transitioning between online and direct mode of education- Merits and Demerits - Regional - 2021 
The Boom of Social Media & the Psycho-Social Impact of Child Pornography - National - 2020 
Minor Congenital Anomalies in Child Psychiatry - International - 2020
One day workshop on Parenting - Regional - 2020
One Day Positive Discipline Workshop for School Teachers - Regional - 2019
Insight into Major Neurodevelopmental Disorders Form Katha Upanishad and Yoga Sutra - International - 2019
Emergency Psychiatry Services for Children & Adolescents: Experience from A Tertiary Care Centre In India - International - 2019
Study Of Various Attributes Associated With Violence In Patients Presenting To A Tertiary Care Psychiatric Hospital - International - 2016