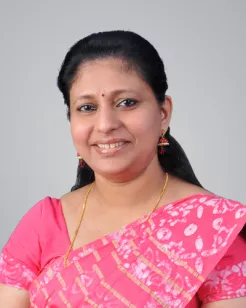 Dr. Supriya Ranjith
Senior Consultant
MBBS, DA, DNB, MNAMS, PDCC
Overview
Dr. Supriya Ranjith is an expert in pain management and anaesthesia with a special interest in Cardiac surgery, plastic surgery, Orthopaedic surgery, Urosurgery.
She specializes in taking high-risk gastrointestinal surgery cases including Hepactectomies and was the sole anesthetist for the first liver transplant surgery done in Kannur.
Backed by impressive medical knowledge, Dr. Supriyakumari has been able to apply her specialist training in performing a number of research activities that's been tremendously contributory to her field and in her treatment regimes to her patients.
Area of expertise
Pain Management and Anaesthesia