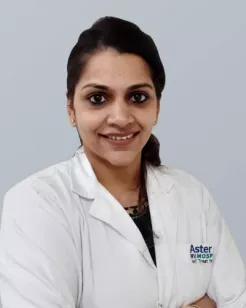 Dr. Swathi Shivakumar
MBBS, MD (Dermatology Venereology and Leprosy)
Overview
Dr. Swathi Shivakumar is a consultant in dermatology at Aster RV Hospital, Bangalore. She has completed her MBBS from the Bangalore Medical College and Research Institute and her MD in Dermatology Venereology and Leprosy from Jawaharlal Nehru Medical College, Karnataka. In her 7 Years of experience, she has worked with various well-known dermatology clinics and has gained expertise in performing numerous dermatology procedures. 
 
Professional experience
Junior resident in JNMC, Belagavi from June 2015 to May 2018. During this tenure, She acquired teaching experience for undergraduate students and have performed numerous procedures independently such as:
Vitiligo surgeries: punch graft, smash graft, split-thickness skin graft.
Acne scars: Dermaroller, PRP, fractional CO2 laser ablation, Subcision, TCA CROSS
Chemical peels: GA peel, TCA peel, salicylic acid peel, yellow peel.
Lasers: Long pulsed Nd Yag laser for hair removal, Q switched Nd Yag laser for tattoo removal, freckes & café au lait macules; IPL laser for port-wine stain, Fractional CO2 laser for acne scars.
Chemical cautery for warts, DPNs, acrochordons, pyogenic granuloma.
RF ablation for DPNs, acrochordons, nevi.
Excision of sebaceous cyst.
Lontophoresis for hyperhidrosis
Phototherapy (NBUVB/PUVA) for vitiligo and psoriasis
Nail surgeries: partial nail avulsion for ingrown toenail
PRP therapy for AGA.
 
Dr. Yogiraj Centre for Dermatology & Cosmetology from 15/07/18 till 31/01/19, in CI cosmetic clinic from 01/02/19 till 12/06/20, in Cosmetiq clinic Trivandrum from 01/04/19 till 31/08/20.
Currently working in Deepak Hospital, Bangalore from 01/01/21 till date and in Aster RV hospital from 04/08/21 till date.
During this time I've acquired skills performing:
Lasers: Diode for hair removal, Medlite (Q switched Nd yag) for skin lightening and tattoo removal, Secret (microneedle RF) for acne scars, and Resurfx (Erbium glass) for acne scars and post-traumatic scars.
Chemical peels
Electrocautery for DPN, acrochordon, warts 
Skin biopsy
Allergy tests: patch test, prick test, food & dust allergy tests
Cryotherapy for warts, alopecia areata, and keloids
ILS for alopecia areata and keloids
Ear & nose piercing
PRP therapy for AGA
Acne scar management
Ear lobe repair
 
Publications:
Shivakumar S., & Jafferany M. (2020). "The Unfair Drive to be Fair" ‐ Psychosocial Aspects and Implications of the Use of Skin Lightening Agents. Dermatologic Therapy. doi:10.1111/dth.14091
Shivakumar S, Jafferany M, Sood S, Sushruth V. Cosmetic presentations and challenges of body dysmorphic disorder and its collaborative management. J Cutan Aesthetic Surg 2021;14:126-131
Shivakumar, S.; Kassir, M.; Rudnicka, L.; Galadari, H.; Grabbe, S.; Goldust, M. Hair Transplantation Surgery Versus Other Modalities of Treatment in Androgenetic Alopecia: A Narrative Review. Cosmetics 2021, 8, 25. https://doi.org/10.3390/ cosmetics801002
Galadari, H., Shivakumar, S., Lotti, T. et al. Low-level laser therapy and narrative review of other treatment modalities in androgenetic alopecia. Lasers Med Sci (2020). https://doi.org/10.1007/s10103-020-02994-4
Shivakumar S, Mueller SM, Yamauchi PS, Weinberg JM, Kircik L, Szepietowski JC, Goldust M. Antihistamines in Psoriasis. J Drugs Dermatol. 2021 Aug 1;20(8):844-847. doi: 10.36849/JDD.5966. PMID: 34397204.
Shivakumar S, Jafferany M, Kumar SV, Sood S. A Brief Review of Dermatitis Artefacta and Management Strategies for Physicians. Prim Care Companion CNS Disord. 2021 Jul 1;23(4):20nr02858. doi: 10.4088/PCC.20nr02858. PMID: 34228404. 
Shivakumar S, Manjunathswamy BS, Metgud T, Doshi B. Cutaneous manifestations in neonates: A 1-year cross-sectional study in a tertiary care hospital. Indian J Health Sci Biomed Res 2018;11:125-9.
Babu B, Shivakumar S, Asokan K. Thinking outside the box in COVID-19 era-Application of modified aerosol box in dermatology. Dermatol Ther. 2020 Jul;33(4):e13769. doi: 10.1111/dth.13769. Epub 2020 Jul 2. PMID: 32500633; PMCID: PMC7300627.
Goldust M, Shivakumar S, Kroumpouzos G, Murrell DF, Mueller SM, Navarini AA. Where do we stand as dermatologists in combat with COVID-19. Dermatol Ther. 2020 Jul;33(4):e13638. doi: 10.1111/dth.13638. Epub 2020 Jun 23. PMID: 32441435; PMCID: PMC7280715.
Murrell DF, Rudnicka L, Shivakumar S, Kassir M, Jafferany M, Galadari H, Lotti T, Sadoughifar R, Sitkowska Z, Goldust M. Biologics and Small Molecules in the Treatment of COVID-19. J Drugs Dermatol. 2020 Jun 1;19(6):673-675. PMID: 32574020.
Goldust M, Kroumpouzos G, Murrell DF, Jafferany M, Lotti T, Wollina U, Shivakumar S. Use of face masks in dermatology department during the COVID-19 outbreak. Dermatol Ther. 2020 Sep;33(5):e13521. doi: 10.1111/dth.13521. Epub 2020 Jun 12. PMID: 32378315; PMCID: PMC7267171
Goldust M, Shivakumar S, Kroumpouzos G, Murrell DF, Rudnicka L, Jafferany M, Navarini AA. Virtual conferences of dermatology during the COVID-19 pandemic. Dermatol Ther. 2020 Jul;33(4):e13774. doi: 10.1111/dth.13774. Epub 2020 Jul 14. PMID: 32506609.
Abhishekh HA, Raghuram K, Shivakumar S, Balaji AL. Prevalence of depression in community dwelling elderly: Study from rural population of India. J Neurosci Rural Pract. 2013 Aug;4(Suppl 1):S138. doi: 10.4103/0976-3147.116470.

Paper/Poster Presentations:
Award paper presentation on Poikiloderma telangiectatica atrophicans in 21st DERMAZONE SOUTH & 8th CUTICON KARNATAKA.
Won 3rd place in poster presentation on lymphangioma circumscriptum in a dermatopathology CME held in Nijalingappa College Bagalkote.
Paper presentation on 'Lupus vulgaris- a case series' in 7th CUTICON KARNATAKA.
Paper presentation on Gianotti crosti syndrome in GOA CUTICON 2017.
Poster presentation on Lupus miliaris disseminatus faceii in GOA CUTICON 2017.
Poster presentation on 'Prevalence of urinary incontinence in community dwelling elderly-A study from rural India' in Aging in America Conference held in Chicago in 2013.
 
Conferences/CMEs attended:
23rd Dermazone South, Kovalam 2019
WCOCD 2017 (World Congress of Cosmetic Dermatology) held in Bangalore.
21st DERMAZONE SOUTH & 8th CUTICON KARNATAKA held in Father Mullers Medical College, Mangalore in 2017.
7th CUTICON KARNATAKA held in Hubli, in 2016.
1st CUTICON GOA 2017.
Dermoscopy basics workshop 2017 held in JIPMER Pondicherry.
Introductory course on Primary Immunology held in JIPMER Pondicherry in 2015.
'Back to roots' CME conducted by NIMHANS Bangalore.
Aging in America conference conducted by ASA (American Society of Aging) in Chicago, 2013.