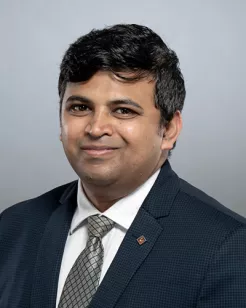 Dr. Karthik K Raichurkar
Consultant- HPB and Liver Transplant Surgery
Overview
Dr. Karthik K Raichurkar is a Consultant in HPB and Liver Transplant Surgery at Aster Hospitals, Bangalore. He is a highly-qualified and experienced HPB and Liver Transplant Surgeon in Bangalore, offering best-in-class medical care. Having a few years of experience, he has gained huge knowledge and adept in performing HPB & liver transplant surgeries.

Dr. Karthik did his MBBS from Government Medical College in Mysore. Later in 2011, he attended MS in General Surgery from JIPMER in Puducherry.
 
Experience:
With vast experience in the field of HPB & liver transplant surgery, Dr Karthik K Raichurkar is an eminent consultant who is dedicated to offering a full range of medical care for patients. He was a senior resident in GEM Hospital in Coimbatore. In 2012, he completed DNB in General surgery from NBE in New Delhi. He attended MCH in GI Surgery from AIIMS in New Delhi and DNB in GI Surgery from NBE in New Delhi. He pursued a fellowship in Liver transplantation at Apollo Hospital in Chennai.
Earlier he was associated as Consultant liver transplant in Apollo, BGS Mysuru. He has teaching experience for undergraduate and postgraduate students in their academic curriculum.
Having had a good experience in General and GI surgical procedures, Dr. Karthik is committed to offering compassionate care needed for patients.
Dr. Karthik K Raichurkar's DISSERTATION TOPICS Are:
MS General Surgery:
Role of ultrasound in predicting the severity of acute pancreatitis under the guidance of Dr Srinivasan, Professor, Department of Surgery in JIPMER.
Mch GI surgery:
Assessment of long-term quality of life following oesophagectomy for carcinoma oesophagus under guidance of Dr Peush Sahni, Professor and Head of Department of GI surgery and Liver transplantation, AIIMS, New Delhi.
Correlation of intraoperative events and postoperative outcomes and quality of life following GI surgical procedures under the guidance of Dr Sujoy Pal, Additional Professor, Dept of GI surgery and Liver transplantation, AIIMS, New Delhi.
Area of expertise
He is well-trained in General and GI surgical procedures (Whipple, Extended cholecystectomy, Splenectomy, Linorenal shunt, colectomy/anterior resection, Gastrectomy, oesophageal resections). He is also trained in basic laparoscopic surgeries (appendectomy, cholecystectomy, Intraperitoneal Onlay mentoplasty, TEP/ TAPP).
He is trained in Cadaveric organ retrieval (Liver, Kidney) and back benching of the organs for preparation for implantation.
Research Publications:
Rajesh Panwar, Vedavyas Mohapatra, Karthik Raichurkar, Peush Sahni. Development and validation of a new score for measuring postoperative complications. Published in Langenbecks archives of surgery in August 2018.
Awards and recognitions
Academic Presentations/Awards:
Poster presentation: Role of ultrasound in predicting the severity of acute pancreatitis IASG (Indian association of surgical gastroenterology) 2011 at Jaipur.
Awarded Bursary for THPBA (Indian hepatopancreatic biliary association) conference in Mumbai in January 2014.
Paper presentation: Laparoscopic Splenectomy and devascularisation at IHPBA, Mumbai 2014.
Paper presentation: Lap versus open Pancreaticoduodenectomy in THPBA Mumbai 2014.
Awarded Bursary for IASG (Indian association of surgical gastroenterology) October 2016.
Best award poster IASG 2016: Prospective validation of Comprehensive complication index(CCI) in Gl and hepatobiliary procedures.
Poster presentation: Correlation of intraoperative events on postoperative outcomes and quality of life in patients undergoing GI surgical procedures at IASG 2016.
Journal presentation: Ideal Cohort study in IASG Bursary, 2016.
Poster presentation: Assessment of long-term quality of life after oesophagectomy in patients with carcinoma oesophagus IASG 2017.
Dr. Karthik K Raichurkar Has Attended Various Conferences & Workshops:
IASG, Hyderabad in October 2010
IASG, Jaipur in October 2010
AMASICON Coimbatore in July 2012 (organising team)
IHPBA, Coimbatore in February 2013
IHPBA, Mumbai in January 2014
IHPBA certificate course, Delhi (organising team) in August 2014
Consensus conference and training in Liver transplant in September 2015
IHPBA certificate course, Kochi in June 2016
Pancreas, CME September 2016
IASG, Coimbatore in October 2016
IASG, Puducherry in October 2017
Cadaveric Liver transplantation, Bengaluru in February 2018
Other Similar Doctors