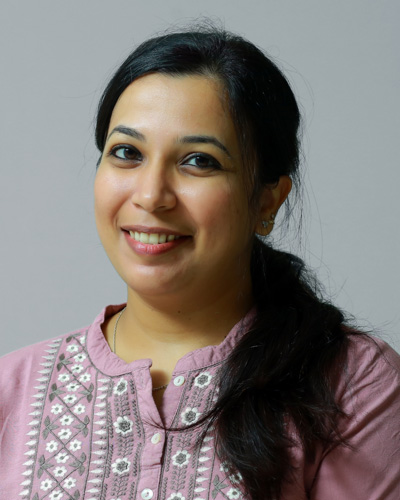 Overview
Completed my MBBS from a renowned institution, Mahatma Gandhi Medical College and research Institute ( MGMCRI) , Pondicherry following which she began her career in the Dept of Cardiology at Apollo Health City, Hyderabad. 
She found her interest and liking to Intensive Care medicine while working at MICU, Aster Medcity. Joined the post MBBS ( IDCCM) training course in critical care medicine under the guidance of Dr. Anuroop and Dr. SGN for 2 years during which she gained exposure to a variety of cases including Nipah, ECMO and some rare infections. For a brief period of time she worked with the prestigious Sir HN Reliance, Mumbai in the MICU and SICU under the guidance of Dr. Mayur Patel and Dr. Mehul Patel following which she joined Welcare Hospital, Vytilla as a Consultant Intensivist . 
She has now rejoined Aster Medcity as an Intensivist in the Cardiac ICU. She plans to do her EDIC and MRCP and her fields of interest are Cardiac Critical Care , Infectious disease, Haemodynamic Monitoring, Neuro critical care. 
Area of expertise
Critical Care - Cardiac Intensive Care
Infectious diseases
Neuro critical Care
Haemodynamic monitoring