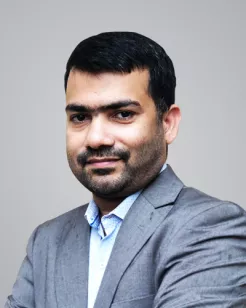 Overview
Dr. Ebrahim has proven his excellence in specialist anesthesiology in reputed hospitals across India and Saudi Arabia. He has also published papers in international journals based on the vast research experience he gained throughout his medical career.
Dr. Ebrahim has worked as a specialist Anesthesiology and ICU Head at Jeddah National Hospital and a Consultant Anesthesiologist at Santhy Hospital, Omassery, Kozhikode. Also, he has worked as Registrar - Critical Care Medicine (IDCCM Trainee) at BMH Kozhikode, Kerala and as Junior Resident in Anesthesiology (DNB Trainee) at the Academy of Medical Sciences Pariyaram, Kannur, India
Dr. Ebrahim has conducted and assisted anaesthetic procedures for spinal, epidural, IVRA and nerve block treatments. He has also conducted, assisted and observed several procedures such as central venous cannulation, pulmonary arterial catheterization, arterial cannulation and several pain management procedures.
Paper Publication "Comparison of onset and duration of sensory and motor blockade with Ropivacaine 0.75% and Bupivacaine 0.5% in epidural Anaesthesia- A clinical trial." in 1OSR Journal of Dental and Medical Sciences Vol. 15, Issue 1, January 2016