All parents dream their children will transform as a baby caterpillar would, to a colourful butterfly, spreading their wings, achieve the best and outlive their parents. These dreams are shattered when, along this journey of life, their transformation is brutally hindered or stopped by illnesses. These illnesses are called life-limiting illnesses or life threatening conditions in childhood. Parents live each day finding ways to protect their baby from any harm or danger, but this life limiting illness, crept up with no warning! Mother, father, brother, sister, grandparents, are all affected, feeling lost and wondering how they can support their baby through this ordeal and have courage for themselves.
Is there a team who can support in these times? Someone who can hold their little one and help them achieve the best in this cocoon of pain and anguish? How are you as a parent supposed to go on with your daily life? Every day is filled with fear and uncertainty - grieving as you see your baby become a shell of who they were.
Paediatric Palliative care (PPC) is such a specialised field of medicine. It is defined by the World Health Organisation as the 'active total care of the child's body, mind and spirit (Holistic approach), and also involves the support to the family'.
PPC cares for children and families of children who are facing any of the following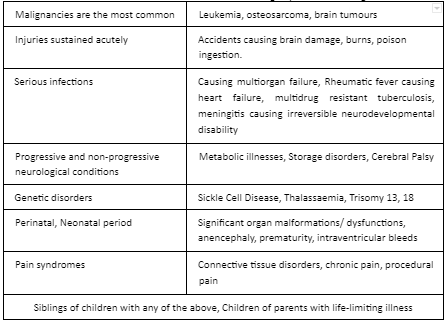 PPC is available from the time of diagnosis of any of the above.
So, what help does PPC offer?
PPC is aimed at providing good symptom relief (Pediatric Pain management, management of nausea, vomiting, breathlessness, anxiety), improve the quality and dignity of life of your baby, and family, using a concept of 'Total Pain' management. The healing is not only physical but emotional, relational, psychological and spiritual – yes even in children!
Children are unique in the way they think, express, make decisions. They blossom even through these challenging times. As they try to burst out of this cocoon of distress, it is never enough to provide only medicines, it needs communication, encouragement, understanding, acceptance, listening and individualising the care. PPC is a team support, working together, with the child as the centre of care, respecting their voice and allowing them to emerge as a butterfly in their time.
The care is continuous through the entire treatment for the illness. Emerging as a butterfly, and spreading their wings is sadly not possible for some children. They continue on a journey, where their light of life is extinguished forever. Through this heart wrenching times, support is provided by PPC as a blanket ensuring that there is good symptom control and death free of distress.
Bereavement support for the family, siblings of children who lose their battle, also for children of adult patients who have lost their fight is part of our continued care.

If you are a parent going through this pain alone, not knowing where to go for answers, please talk to your Primary Doctor. We are here, at Aster CMI Palliative Department. We work as a team and we will listen and support you alongside with the best palliative physician in Hebbal, Bangalore. Come and meet us, we can help you.
PHONE : 9513243552
Some useful links to understand: https://www.togetherforshortlives.org.uk/ https://www.macmillan.org.uk/cancer-information-and-support/treatment/if-you-have-an-advanced-cancer/end-oflife/preparing-a-child-for-loss https://www.cancerresearchuk.org/about-cancer/coping/dying-with-cancer/coping-with-the-news/supportingchildren/what-to-tell-children